Gottifredi Maffioli is proud to announce a new partnership as Official Rope Supplier with We Are Foiling, the official organiser of Foiling Week, the global event dedicated to foiling, a constantly evolving technology that is revolutionising the world of sailing.
Technological innovation has been Gottifredi Maffioli's main focus since its inception, this partnership is a further demonstration of the company's commitment to progress, industry sustainability and inclusiveness.
Gottifredi Maffioli, like We Are Foiling, is constantly committed to reducing its environmental footprint: all Dyneema® ropes are produced from a biological base, which reduces CO2 emissions by 5 tonnes for every tonne of Bio-Based Dyneema® produced compared to conventional ropes.
"The partnership with Foiling Week, an event that represents the cutting edge of foiling technology and attracts enthusiasts from all over the world, stems from sharing a common vision, and we are convinced that it will enable us to promote our common mission of innovation and sustainable development in the nautical sector."
Rossella Maffioli, Managing Director Gottifredi Maffioli.
Foiling Week 2023 – The Tenth Edition
The 10th edition of Foiling Week, besides being a World Sailing Special Event, was the meeting point for the foiling community, sailors, owners, manufacturers, enthusiasts and designers.
In addition to the regattas, events, exhibitions and displays were planned to give participants a unique experience.
The inauguration was on 26 June at Fraglia Vela Malcesine, on Lake Garda, an incredible natural stadium with ideal weather conditions for water sports, which has always been an excellent location where Olympic athletes and sportsmen from all over the world train all year round.
Information with dates and details can be found in the programme.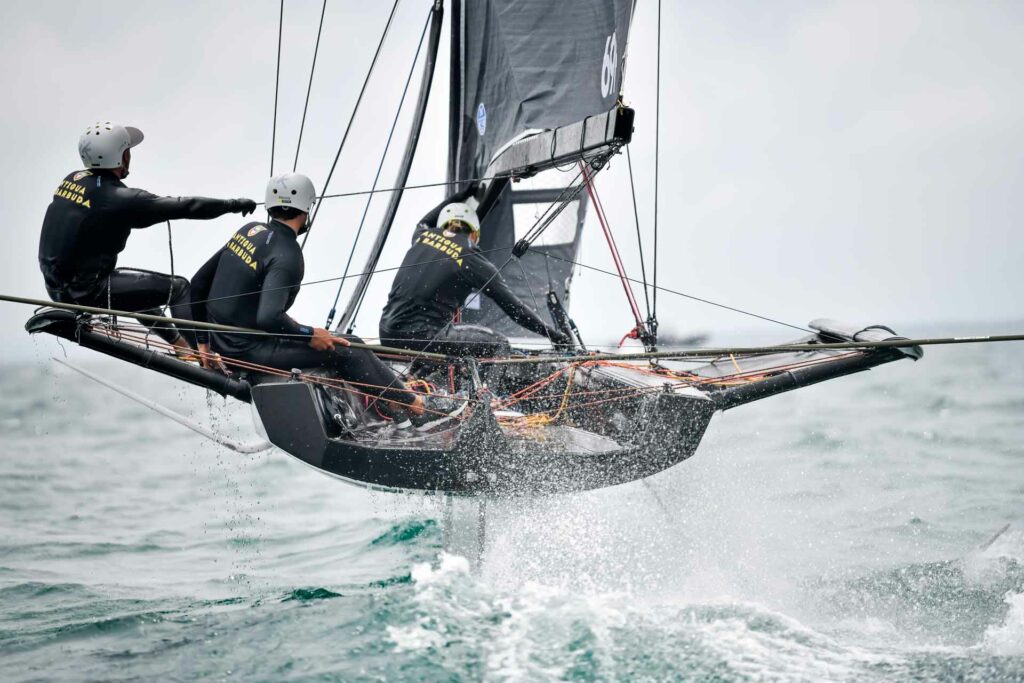 Gottifredi Maffioli Splicing Master-class: "Technological Innovations in Fiber for the Foiling World"
Gottifredi Maffioli organised an exclusive event on 30 June at 5pm with Luigi Maffioli, technical director of Gottifredi Maffioli, and Davide Fuzzi, sailmaker, rigger and founder of 'Fuzzirigging', a masterclass featuring Tokyo gold medallist Ruggero Tita.
Several splices were made during this workshop, among them, to name a few:
For these splices, the following ropes, among others, were used:
Powertech 78, 8 mm diameter (mainsail sheet)
Powertech 6 mm (mainsail carriage)
TD 99, 4.5 mm diameter (mainsail cunningham, gennaker halyard and retriver)
TD 98 compact, 6mm diameter (gennaker sheet)
An experience designed and structured for the Foiling community, enthusiasts, owners and sailors.
#RopesReinvented
During the splicing master-class, Luigi Maffioli talked about the new initiative that reflects a growing trend among rope users: the use of pieces of rope to create objects and compositions in fashion, art, sculpture, furniture, and many other ideas.
The #RopesReinvented initiative aims to show how many times rope scraps can be reused by giving space to users' creativity.