Gottifredi Maffioli is proud to have collaborated and contributed to the realisation of "Sinopia Sinopsia Sinapsi", an exhibition curated by Marco Tagliafierro, art critic, and produced in collaboration with the artists Alex Dorici and Yari Miele, with the support of Casa Degli Artisti Milano within the Arte&Impresa project.
The installations in the exhibition originate from the union between the Gottifredi Maffioli ropes and the art of the two artists, who use lights and colours to change the perception of the ropes, and starting from the drawings create environmental installations.
"Sinopia Sinopsia Sinapsi" is a research into the meaning of the matter, from the point of view of the company and from the point of view of the artists, which highlights new perceptions and meanings of the elements of the installations: in this case, the Gottifredi Maffioli ropes.
Marco Tagliafierro, the curator of the exhibition, explains how the installation tries to evoke different meanings starting from the same subject, through synaesthetic and synaptic processes that make the ropes perceived differently.
Luigi Maffioli, Technical Director of Gottifredi Maffioli, has been impressed and surprised by the results of the project and the collaboration with Alex Dorici and Yari Miele, with whom he shares knowledge of ropes, the material the two artists usually work with, because during the study for the realisation of the exhibition and the visit to Gottifredi Maffioli, different points of view on the function and aesthetic value of ropes emerged.
Luigi Maffioli states that "they were enhanced in ways that had not previously been considered, not least through the use of light and colours".
Rosella Maffioli, Managing Director of Gottifredi Maffioli, is also enthusiastic about 'Sinopia Sinopsia Sinapsi' and states that "it has opened up new paths in the search for innovative solutions and new developments related to the world of design".
Continuous research and a sense of pioneering push the company to explore new areas such as design, fashion, and industry, enhancing ropes in unexpected ways.
For Gottifredi Maffioli, it is important that the search for new solutions and the pursuit of goals produce the lowest possible impact on the environment. This is embodied, for example, in the production of 100% Dyneema ropes made from bio-based materials, the use of energy produced from renewable sources, or the commitment to avoid waste and unnecessary stocks.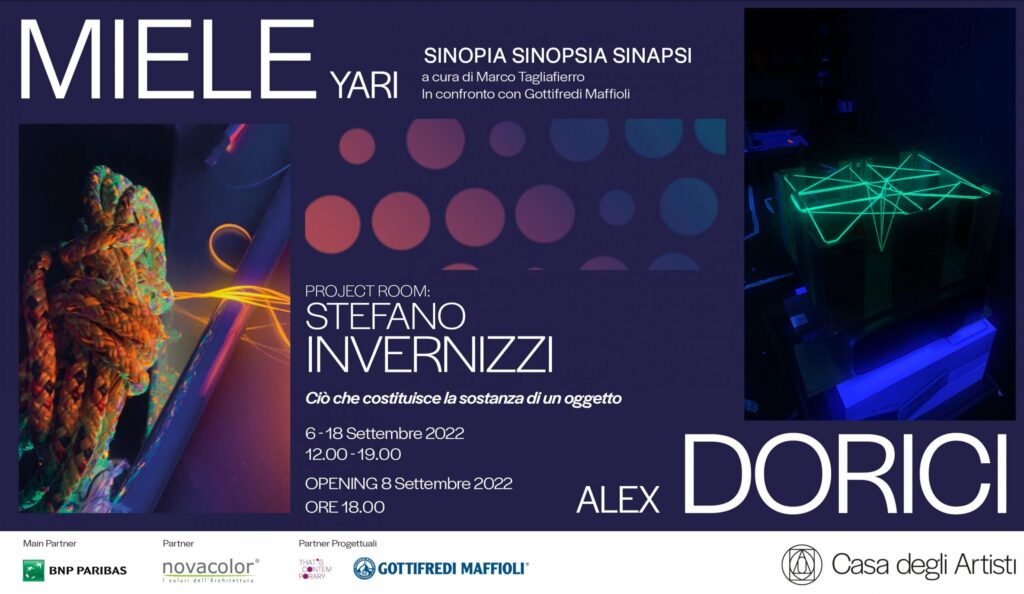 You can visit the exhibition from 6 to 18 September at Casa Degli Artisti, Corso Garibaldi 89/a, Milan.
For more information visit:
https://www.casadegliartisti.net/2022/08/04/yari-miele-e-alex-dorici-sinopia-sinopsia-sinapsi/